The window treatments in your home should be both stylish and functional. If you want to improve your home's appearance, if you crave more privacy, or if you would like to have more control over the amount of light entering a room, changing the window treatments may be the solution. Trust Knox Blinds for blinds and shutters Solway TN.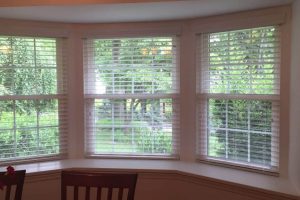 Attractive Blinds Made from Quality Materials
We offer an impressive selection of expertly crafted blinds that are made from aluminum, faux wood, and real hardwood. Since our blinds are well constructed using durable materials, you can rest assured that you are making a wise investment. No matter which window treatments you choose, you can be confident that they have been built to last.
Adjusting the position of blinds as the sun changes can be a hassle, especially if you have several windows with blinds in different rooms. That is why we offer motorized blinds that can be easily raised and lowered using a remote control.
Plantation Shutters That Can Be Used on Virtually Any Type of Window
Plantation shutters can draw visitors' eyes to the windows in your home, no matter their style. Knox Blinds offers plantation shutters that can be installed on practically any style of window, including casements, bows, and French and sliding glass doors.
Our plantation shutters are made from real wood and vinyl and MDF composite grades. They have mortise and tenon joints that have been engineered to handle the stress and racking forces that are produced when shutters are opened and closed.
In-Home Consultation to Explore Blinds and Shutters Solway TN
With so many companies offering blinds and shutters made with various designs and materials, homeowners often feel confused and overwhelmed. That is why Knox Blinds offers free in-home consultations.
Our consultants have years of industry experience. One of them can meet with you in your home at a time that is convenient for you to show you some of the products we offer, discuss the pros and cons of various materials and styles, and help you choose the window treatments that are right for your house.
Customers who purchase blinds or shutters in a showroom or online sometimes feel disappointed when the products are installed in their house. Many homeowners prefer a consultation since it makes it easier to visualize window treatments in their home. Call Knox Blinds today at (865)544-8339 to schedule an appointment.