As the sun shifts in the sky, rooms can receive more or less sunlight. A room that gets a pleasant amount of sunlight at one time of day can become unbearably hot if the blinds are left open when the sun is in a different position. Opening and closing the blinds manually can be a hassle, especially if you have blinds in several rooms. If you're frustrated by having to adjust window treatments, you may be interested in learning what are motorized blinds.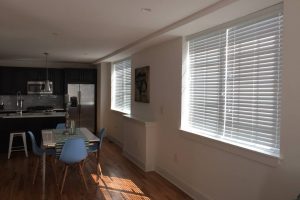 How Do Motorized Blinds Work?
Some motorized blinds are powered with batteries. They are easy to install and may be a good choice for an area where there is no outlet nearby or where you don't want to run a wire. If you choose blinds powered with AA batteries, you will have to replace the batteries frequently. Lithium batteries will last longer.
Motorized blinds can be hardwired and plugged into an outlet. You will have to hire an electrician to install them, but you may pay less to operate them than you would with battery-powered blinds. If you're planning to renovate your house, it may make sense to have an electrician install hardwired motorized blinds while making other upgrades.
You can also choose motorized blinds with a DC power adaptor that plugs into an outlet. They are easier to install than hardwired versions, but they need to be placed near an outlet, and they have a visible cord.
Motorized blinds powered by sunlight are another option. Solar-powered blinds have a rechargeable battery wand. They can be installed without assistance from an electrician. A solar panel system behind the shade can collect sunlight to power the motor. This may or may not be a good option, depending on the location of the windows and the amount of sunlight they get.
Meet with a Consultant to Learn More about What Are Motorized Blinds
If you would like to avoid having to adjust your blinds manually, you may love the convenience of motorized blinds. A consultant from Knox Blinds can come to your home to discuss how motorized blinds work and to explain the options we offer. Contact us today at (865)544-8339 to schedule an appointment.