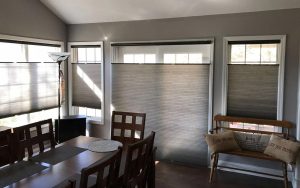 Many homeowners underestimate the impact a window treatment can have on their rooms. This covering will do more than just net you shade and privacy; choose right, and you'll revitalize your spaces, elevating your home to a new level of style and sophistication. At Knox Blinds, our pros will your design goals and help you find the perfect pick for your home. When they need advice on blinds and shutters, Washburn TN locals turn to us for answers.
Our wide selection of window treatments includes classic shutters, modern blinds, sleek roller shades, and more! Each one of our products is available in a wide variety of styles, colors, fabrics, and materials, giving you the creative freedom to run wild with your renovation ideas. Contact us today at 865-544-8339 to find out more.
Let's take a look at a few of our most popular window blind designs:
Roller Shades
This flat window covering is constructed from a single sheet of fabric that retracts or extends to give you shade and privacy in a pinch. But this window treatment isn't all function and no form. Available in different fabrics and colors, roller shades are a great backdrop for your rooms, helping highlight the beauty of your furniture, architecture, and decor.
Cellular Shades
This beautiful covering has a few tricks up its sleeve, namely the hundreds of fabric pockets sown into the design that trap air to insulate your rooms. Also known as honeycomb shades, this window treatment helps maintain consistent temps indoors, preventing hot (or cold) air from entering your home. The result: your HVAC system doesn't have to work as hard to keep you comfortable, reducing your energy bill and minimizing wear.
Plantation Shutters
Available in genuine hardwood, MDF composite grades, and faux wood varieties, this classic covering can work in any room. The hard lines of this window treatment are particularly well-suited to rooms such as kitchens and bathrooms. We recommend you opt for the faux wood option in these spaces as grease, humidity, and heat can cause genuine hardwood products to warp and rot over time.
Contact Us Today to Find out More About Our Blinds and Shutters
Refresh your rooms with a new window treatment handpicked by the knowledgeable team at Knox Blinds. As part of your free consultation, we will visit your home, bringing along samples of our many products so you can see how these coverings look in your rooms. Call 865-544-8339 today to schedule a visit.