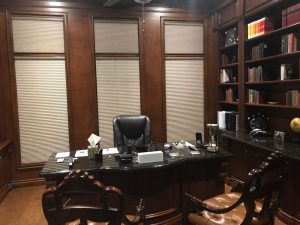 If you think blinds, shades, and shutters are only for your home, you're mistaken. The right coverings in your office can add a touch of style and sophistication. They will also help minimize glare, control indoor temps, and give you privacy when you need it. Are you looking for stylish-but-functional office window blinds? Turn to the team at Knox for expert advice.
We will visit your business, discuss your light control needs, and help handpick the perfect window treatment for your space. Our expansive inventory includes hundreds of styles of blinds, shades, and shutters and we will bring along samples as part of your free in-home consultation so you can see how these products look in your rooms. Contact us today at 865-544-8339 to schedule a visit from our pros.
3 Ways to Beautify Your Office With Luxury Window Blind Designs
When it comes to dressing up your office space, you have countless options to choose from. Let's look at just a few ways you could upgrade your business with a beautiful window treatment:
Tap Into Budget-Friendly Style With Faux Wood Blinds
Faux wood has come a long way since it's humble, not-so-stylish beginnings. New iterations of this material look just like the real deal – and cost substantially less! It's why more businesses are opting for faux-wood blinds that merge comfort, durability, and style into one sleek and easy-to-use design. The best part: faux-wood versions are both heat and humidity resistant, preventing warping and sun damage that would otherwise ruin genuine hardwood products.
Save Energy With Cellular Shades
The glare won't just leave you squinting, it could have you sweating, too. Outdoor heat has been shown to ramp up indoor temps, forcing your air conditioner to work harder to keep you (and your employees) comfortable. Cellular shades are made up of hundreds of small fabric pockets that trap air to prevent heat from seeping in from the outdoors. The result, your cooling system will have an easier time maintaining consistent indoor temps.
Inject Elegance Into Any Space With Shutters
Net yourself timeless, effortless style with a set of luxury shutters. While it's not the first choice for those looking to upgrade their office space, these wooden window treatments are becoming a fast favorite among those with an eye for a more classic aesthetic. Not only will these coverings insulate your office space, they are also built to last, making shutters a long-term investment that always has you covered.
Find Stylish Office Window Blinds Today
Ready to outfit your office with the best coverings available? Turn to the team at Knoxville Blinds and Shutters. We will help find the perfect window treatment for your office space. Call 865-544-8339 today to find out more.