If you're looking for new shades for your home, you can choose from a wide range of brick-and-mortar and online retailers. Companies that sell window treatments offer products that vary widely in terms of quality. If you're looking for shades for windows near me, Knox Blinds is your best choice! Find out why.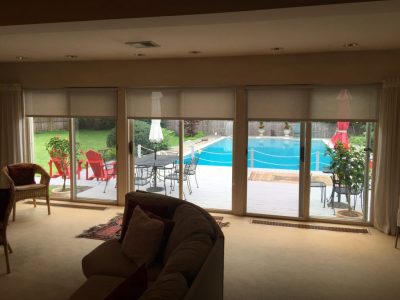 We offer several types of shades. All are made with quality materials and built to last. No matter which style of shades you choose, you can be confident that you're making a wise investment!
Select the Right Shades for Your Home
Cellular, or honeycomb, shades have small air pockets that make them excellent insulators. If your utility bills are high and you think it's due to air leakage through the windows, installing cellular shades can help you reduce your energy costs. Our honeycomb shades can also let you reduce the amount of light that enters a room as much or as little as you want.
Our roller shades are another option that will let you regulate the light in a room. Knox Blinds offers light-filtering and room-darkening roller shades with a variety of textures, designs, and patterns. If the amount of sunlight that enters a room makes it unbearably hot or causes damage to furniture, flooring, and artwork, our SOLAR roller shades may be the solution.
Knox Blinds also offers Roman shades that you can raise and lower as you see fit to control the amount of light in a room or to have privacy when you want it. Our Roman shades are available in a variety of styles, including ones that are smooth and pleated.
Woven wood shades are yet another stylish and functional option. Wood shades are particularly versatile and can be used in practically any type of home or business. Knox Blinds offers woven wood shades in a wide range of sizes and finishes.
Learn More about Shades for Windows Near Me
If you're feeling overwhelmed by all the options or you have questions about a specific type of window shades, don't worry. Knox Blinds offers free in-home consultations! You can have a consultant come to your house, show you samples of the shades we offer, and answer any questions you might have. Call (865)544-8339 to schedule an appointment!