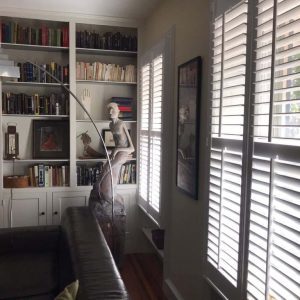 Shutters can lend an air of elegance to your home and can give you valuable privacy when you want it. Plantation shutters can also provide an extra layer of insulation and help you control the amount of light that enters a room. That means you can easily keep the interior of your home at a comfortable temperature. If you're looking for new window treatments, you have several options, including wood and composite plantation shutters. You can find both at Knox Blinds.
Wood vs. Composite Plantation Shutters
Wood shutters have an attractive natural grain. They can be painted or stained in a range of colors to suit the décor in a room. Composite plantation shutters are made of synthetic materials that are designed to be durable, but they don't have a wood grain pattern.
Wood can expand, warp, crack, fade, or rot if it is exposed to water, even if the wood has been treated. Composite shutters are moisture resistant. This makes them a good choice for areas that tend to have high humidity, such as kitchens and bathrooms.
Natural wood is susceptible to scratches. That can be a problem if you have kids or pets. Composite shutters are designed to resist scratches.
Read wood can gradually fade from exposure to sunlight. Composite shutters are made from materials that resist fading.
Composite shutters weigh less than shutters made from real wood. Therefore, they are easier to install.
Schedule an In-Home Design Consultation
Knox Blinds sells plantation shutters made from vinyl and MDF composites and real wood. Shutters are available in a range of sizes and designs to suit various window styles, as well as French doors.
If you want to install new shutters in more than one room, you can choose either natural wood or composite, or you can use a combination of different materials to create the aesthetic you want. Whatever type of plantation shutters you choose, you can be confident that they will improve the appearance of your home and increase its value.
A design consultant can meet with you in your home to explain the differences between wood and composite plantation shutters and to show you samples of each so you can make an informed decision. Contact Knox Blinds at 865.544.8339 to schedule a free consultation.