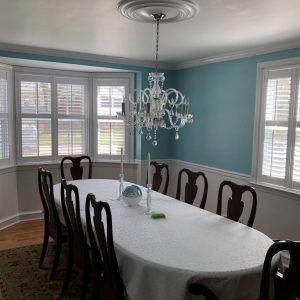 The right blinds or shutters can make a good first impression when people visit your home or business. Knox Blinds offers window treatments to suit a variety of needs, preferences, and budgets. Contact us to schedule a consultation to learn about blinds and shutters Plainview TN.
Window Treatments Available from Knox Blinds
We offer blinds and shutters made from quality materials that are designed to last. You can shop with confidence knowing that products from Knox Blinds are a wise investment.
Our blinds are made from real hardwood, faux wood, and aluminum. We also offer motorized blinds that make it easy to control the amount of sunlight that enters a room. Instead of struggling to raise and lower blinds manually on large or hard-to-reach windows, you could adjust motorized blinds with a remote control. That could help you keep your home or business at a comfortable temperature. In addition, it will help keep your summer electricity bills under control.
Plantation shutters can accentuate windows to draw people's attention to them as soon as they enter a room. Knox Blinds sells plantation shutters made from various grades of vinyl and MDF composites, in addition to real wood that can be painted or stained in the color of your choice. Our durable shutters have Mortise and Tenon joints that can withstand the stress of opening and closing to protect the shutters from damage.
Get Professional Help Choosing Blinds and Shutters Plainview TN
When looking for new window treatments, it's easy to feel overwhelmed by all the design choices and materials. Shopping in a store or online can make it difficult to visualize how blinds or shutters would look in a room at your home or business.
That is why Knox Blinds provides private, in-person design consultations at no cost. A consultant can show you products we offer, explain the materials they are made from and their benefits, and help you choose the window treatments that would be best suited to your décor, needs, and budget.
Our consultants are available outside traditional business hours to accommodate our customers' busy schedules. Contact us at 865.544.8339 to schedule a consultation at your home or business.