If you're looking for new window treatments for your home, you may be frustrated by the limited selection you've found in stores or online. At Knox Blinds, we understand that every house is different and that cookie cutter solutions don't work for everyone. We can design and install custom blinds and shutters Madisonville TN that will be perfect for your home!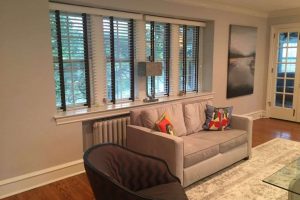 Find the Right Blinds for Your House
We sell blinds made with real and faux wood, as well as aluminum. You can select a material based on your room's design and décor, how you use the space, and your budget. We offer blinds with slats in various sizes to suit different types of windows, as well as a variety of colors to fit any homeowner's style.
People often get frustrated because they find it difficult to open and close blinds on windows that are tall or large or that are in hard-to-reach places. If you choose window treatments from Knox Blinds, that won't be a problem. We can install motorized blinds that you'll be able to open and close with the press of a button, either individually or all at the same time.
Install Custom Shutters in Your Home
If you're more interested in plantation shutters, you have plenty of options. We offer shutters made with real wood that can be painted or stained in the color of your choice to complement the room's décor. We also sell shutters made with MDF composite and vinyl.
Plantation shutters are versatile enough to be installed on practically any type of window, in addition to sliding and French doors. We can create custom shutters that are specifically made to fit your home's windows or doors.
Learn More about Blinds and Shutters Madisonville TN
You may have questions about the window treatments we offer, or you may want to learn more about how they can be customized to suit your home. A consultant can come to your house at a time that fits your schedule to show you samples of our blinds and shutters and explain more about how they can be customized.
The consultant will be able to see how your house is designed, discuss your needs, and help you select the custom window treatments that will work best for you. Call us today at (865)544-8339 to schedule a consultation!