Plantation shutters can make your house look more stylish and sophisticated, but they also offer practical benefits. They can help you keep the interior cool in the summer and warm in the winter, which can keep your family comfortable and save you money on your air conditioning and heating bills. If you're interested in installing plantation shutters, weigh the pros and cons of composite wood vs. vinyl shutters before making a decision.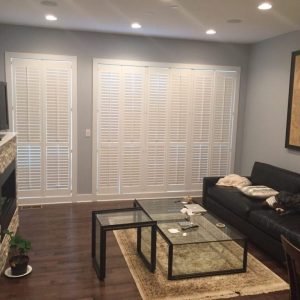 What You Should Know about Composite Wood and Vinyl Shutters
Wood has traditionally been used for shutters because it's a durable material. Knox Blinds offers plantation shutters made with medium-density fiberboard (MDF), a composite material made with a blend of recycled wood fibers and resin.
The manufacturing process makes MDF more resistant to humidity and temperature fluctuations than natural wood. That means MDF is resistant to warping and cracking.
Plantation shutters made with MDF can stand up to frequent use without getting scratched or dented. The surface of MDF shutters is smooth, which makes them easy to clean.
Vinyl is also durable and requires minimal maintenance. In addition, vinyl is resistant to moisture and is available in a wide range of colors. Vinyl is a lightweight material, which means the installation process tends to be straightforward. Vinyl plantation shutters can be a particularly good option for smaller windows.
Learn More about Plantation Shutters
Knox Blinds offers plantation shutters made with both MDF composite and vinyl. All the window treatments that we sell are attractive and built to last, but one material might be more suitable for your home or your personal style.
If you're weighing composite wood vs. vinyl shutters and you aren't sure which to choose, we can help! Knox Blinds provides free in-home consultations. One of our consultants can visit your house at a time that works for you to show you samples of the plantation shutters we offer. You'll have an opportunity to inspect them, see their quality for yourself, and ask questions.
Another benefit of an in-home consultation is that you'll get to see the shutters in the room where you're planning to install them. That way, you won't have to worry about buying window treatments in a store or online, then realizing that they don't look the way you expected.
An in-home consultation can eliminate the guesswork so you can shop with confidence. Call Knox Blinds today at (865)544-8339 to schedule a consultation!