If you've been looking for new blinds for your home, you may have come across some companies that offer faux wood blinds. It's important to understand what does faux wood blinds mean and what are the unique advantages of faux wood blinds so you can figure out if they're the best option for your home.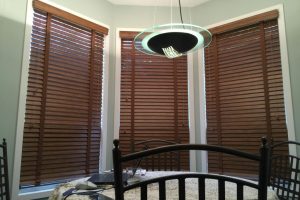 What Are the Differences Between Real Wood Blinds and Faux Wood Blinds?
Real wood blinds can be made from several species and can be painted or stained in an array of colors. Faux wood blinds can be crafted from foam wood, vinyl, composite, or PVC. Faux wood blinds are meant to mimic the look and feel of natural wood and may have a wood grain and stain that make them closely resemble real wood blinds.
What Are the Benefits of Faux Wood Blinds?
Faux wood blinds cost less than window treatments made with real wood. If price is one of the main factors driving your decision-making process, faux wood blinds can let you enjoy the beautiful appearance of wood blinds and stick to your budget.
Blinds made with faux wood can stand up to moisture and humidity better than real wood blinds can. If you're looking for blinds to install in your kitchen or bathroom, faux wood blinds are an excellent choice.
Faux wood blinds are long lasting. They're more flexible than blinds made with real wood and are less likely to warp or crack. Faux wood blinds are also durable and easy to clean.
Learn More About "What Does Faux Wood Blinds Mean?"
If you're still not sure if faux wood blinds would be the best window treatments for your house, contact Knox Blinds to schedule a consultation. A consultant can meet with you in your home and show you samples of the products we offer.
You will have an opportunity to look at faux wood and real wood blinds side by side and learn more about the differences between them. You'll also be able to see how different colors and styles would look in your house so you can select the blinds that best suit your home's décor. Call (865) 544-8339 to schedule a consultation.