If your house is chilly in the winter, it may be because heat is escaping through the windows. Replacing the windows is one possible solution, but it may be unnecessary. Installing new blinds may make a significant difference. You might be wondering, will blinds keep heat in? The answer is yes, but some types of blinds do a better job than others.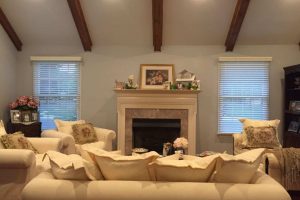 How Blinds Can Keep Your House Warm
Some blinds have a reflective layer that reflects heat back toward its source. If that layer is on the inside, the blinds will reflect heat from the furnace back into the room.
Blackout blinds are designed to block out sunlight, but they also offer other benefits. Their thick material can provide insulation and help keep heat in your house during cold winters.
The design of the slats is an important factor that you may not have considered. Vertical blinds can do a better job of insulating than horizontal blinds can. That's because vertical blinds have larger slats that lie on top of one another, which means there are fewer gaps where heat can escape.
If You Have Questions about How Will Blinds Keep Heat in, Talk to a Consultant
Homeowners often feel confused and overwhelmed by the wide array of window treatments on the market, their various designs and materials, and the claims that different manufacturers make. When shopping online, it can be difficult to discern a product's quality from a photo, and colors may look different on a screen than they actually are. Even if you see blinds in a store, it can be hard to accurately picture how they would look in your house.
Knox Blinds offers free in-home consultations to help customers understand their options and eliminate any guesswork. A consultant can come to your house at a time that suits your schedule to discuss the blinds we offer and show you samples.
You will have an opportunity to inspect the products and ask questions about their materials, construction, and performance. You will also be able to see how blinds will look in the room where they are to be installed to you won't make a decision that you will regret. Call (865)544-8339 to schedule an appointment.