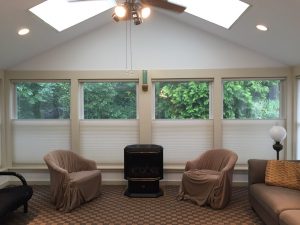 Your windows are one of the first elements visitors notice about your rooms. As a result, investing in a luxury window treatment can have a dramatic impact on the overall look and feel of your space. At Knoxville Blinds, our blinds professionals will give you their recommendations on the best blinds, shades, or shutters based on your design goals. In this article, we share examples of some our favorite modern window treatment styles to inspire your grand designs.
Shopping for a new covering can be a stressful process. From the style to the materials to the color, there are countless factors to consider and it's easy to feel overwhelmed. At Knox Blinds, we bring the window treatment store to your front door so you can shop from the comfort of your own home. Contact us today at 865-544-8339 to find out more about our free in-home consultation service.
Woven Wood Shades
Spun from grasses – such as bamboo – woven wood shades lend a laid back (but refined) look to any room. The interwoven grasses excel at blocking out light and insulating your rooms. They also provide privacy during all hours of the day.
Motorized Blinds
Motorized window blinds are a coveted covering in modern "smart" homes. Controlled by a small, whisper-quiet motor, these window shades can be adjusted using a remote or smartphone app. This window treatment is recommended for hard-to-reach windows or those where access is obstructed by large, immovable pieces of furniture.
Honeycomb Shades
Honeycomb shades are made up of small cells that are designed to trap air and form a barrier against the window and your indoor spaces. This helps insulate your rooms, preventing air from seeping between the panes and affecting your indoor temps. As a result, your air conditioner or heater won't have to work as hard to keep you comfortable. This reduces your running costs.
Solar Shades
These sleek shades reflect and absorb 95% of the sun's glare, heat, and UV rays. The result: you'll be more comfortable indoors and won't be left squinting in the sun.
Schedule Your Free In-Home Consultation for Window Treatment Styles Today!
A modern window treatment is the perfect update for your home, packing contemporary style, next-level features, and intuitive functionality into one sleek package. Need help choosing the right set for your rooms? Our pros will visit your home, bringing along samples of our blinds, shades, and shutters so you can see our products firsthand. Contact us today at 865-544-8339 to book a home visit.