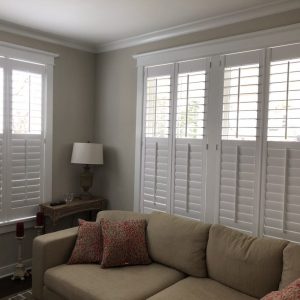 Just like leather pants and bootleg jeans, blinds and shutters can fall in and out of style. Fortunately, there are some window treatments that have timeless appeal. At Knoxville Blinds, our pros have an eye for modern solutions designed to age with grace. In this article, we break down the biggest window treatment trends – 2019 edition and how your home could benefit from one of these breathtaking designs.
At Knox Blinds, we take the stress out of shopping for new blinds, shutters, and shades letting you browse our wide selection of high-quality window treatments from the comfort of your own home. Our experts will visit your property bringing along samples of our products to help you find the perfect pick for your rooms. Call 865-544-8339 today to book your free in-home consultation.
Shopping for a new window treatment? Let's take a look at the biggest window treatment trends this year:
1. Roller Shades
It's a new year and roller shades are making a resurgence. Once a window treatment confined to dingy dorms and cheap motel rooms, this effective shade solution is making a formidable comeback. Available in a wide variety of colors and materials, you can customize this minimalist window treatment to ensure you have the perfect, sleek backdrop for your home's beautiful furniture and décor.
2. Motorized Blinds
If your New Year's resolution isn't to cut the cord and switch to a motorized window treatment, you're missing a trick. Motorized blinds are designed to simplify your life giving you unparalleled control over your covering with just the push of a button. Tech advances throughout last year have ushered in a new generation of quicker, quieter, and more efficient motors, making motorized blinds the perfect choice for homeowners looking to build a smarter home.
3. Plantation Shutters
Plantation shutters are attention grabbing and dramatic, turning your rooms into a trip down memory lane without dating your décor. But the benefits of this traditional window treatment run deeper than just aesthetic appeal; plantation shutters are a sturdy solution manufactured and engineered to last for generations to come.
Find Our More About Our Stylish Blinds and Shutters
Feel inspired by our window treatment trends (2019)? Turn to the pros at Knox Blinds for help choosing the perfect blinds, shutters, or shades for your property. We will bring samples of our high-quality products to your home and help you select a set that complements your home's interior design theme and enhances your space. Call 865-544-8339 to get started today.