This year, homeowners have been focusing on making their homes more energy efficient and functional while experimenting with materials, textures, and colors. Here are some of the top window treatment trends 2020.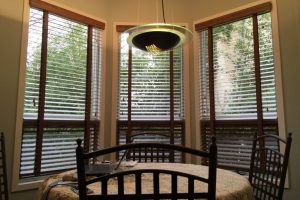 Popular Window Treatment Options
Many people have been choosing blinds and shutters made from natural wood. Those window treatments offer both beauty and durability, making them a wise investment.
Homeowners are feeling the urge to experiment this year. Many are combining colors and textures in bold and unexpected ways.
With people spending much of their time indoors, they want to create a relaxing environment. Homeowners often choose warm, soothing colors and combine them with bold accents elsewhere in the room.
Sometimes homeowners choose so many colors for a single room that the overall effect feels overwhelming. With tone-on-tone layering, one color can be used in different shades to create visual interest.
Focus on Technology
Many people dislike having to raise and lower blinds and shades throughout the day as the position of the sun changes. With motorized window treatments, that can be a thing of the past. Motorized shades can be controlled with a remote control. Since they are cordless, motorized window treatments are a good choice for families with small children or pets.
Energy Efficiency and Savings
For homeowners who are concerned about energy efficiency, layering window treatments makes sense. It can provide additional insulation, which can prevent air leakage and help keep heating and cooling costs under control.
How to Choose Window Treatments for Your Home
When selecting blinds, shades, or shutters for your home, think about how you use each room and what unique needs or challenges each space has. For instance, in the bedroom, you want to control light and have privacy. In the kitchen and bathroom, you want window treatments that can withstand frequent exposure to moisture. In the living room, you want to control the amount of sunlight to protect your furniture, flooring, and artwork from damage.
Knox Blinds offers a wide array of window treatments to suit any home's décor and any homeowner's budget. If you're feeling overwhelmed by all the options out there, you can meet with one of our consultants in the comfort of your home to see the products we offer, learn about their benefits, and get your questions answered. Call Knox Blinds today at (865)544-8339 to schedule a consultation to learn more about window treatment trends 2020.