The window treatments that you choose will affect more than your home's aesthetics. They can also help you control the temperature indoors, which can have a significant impact on your utility bills. Window treatments might even help you reduce the amount of noise from outside your house that you can hear on the inside.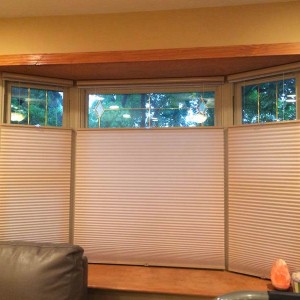 You might be wondering, are cellular shades better than blinds? Here are some important things you should know!
Benefits of Cellular Shades
Cellular shades are also known as honeycomb shades because of their distinctive design. They have air pockets that provide insulation and help block out heat. If your house tends to get hot in the summer and you're looking for a way to lower your utility costs, cellular shades might be the solution. They can also help block out noise from traffic, construction, and other sources so you can enjoy peace and quiet.
Since cellular shades don't have any gaps in them, you will have to raise or lower them to control the amount of light that enters your house. Raising the shades might allow other people to see inside your home.
Reasons to Install Blinds
Blinds can also block out light and help you maintain a comfortable indoor temperature. If you select blinds, you will be able to adjust the slats to let in just the right amount of light. That way, you'll be able to avoid using artificial light sources during the day, keep neighbors from seeing inside, and maintain your privacy.
Which Should You Choose?
If you're wondering, are cellular shades better than blinds, there isn't a clear answer. Each has benefits, and your decision will come down to several factors, including your goals, your home's design, your personal style, and your budget.
Knox Blinds offers cellular shades, plus blinds made with real and faux wood and aluminum. We understand that choosing window treatments can be a challenge, and we want to be sure that you make the decision that's best for you!
One of our consultants can come to your house to show you samples of our cellular shades and blinds, answer any questions you might have, and help you figure out which window treatments will be right for your home. Call us at (865)544-8339 to schedule an appointment!