High utility bills can strain a family's budget. Many homeowners therefore want to find ways to make their houses more energy efficient. Expensive bills are often due to heat being lost through windows that are inefficient or worn out or that have gaps or cracks around them. Installing the best blinds for cold weather may help you significantly reduce your winter heating costs.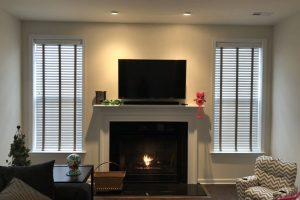 How Blinds Can Help Keep Your Home Warm
Since high winter heating bills are often related to heat loss, reducing the amount of heat that escapes through your windows can be a simple and effective solution. Blinds can provide a layer of insulation between a room and a window and reduce heat transfer.
Raising and lowering blinds at different times of day can help you regulate the temperature inside your house so you can rely less on the furnace. When the sun is out, opening the blinds can allow sunlight to naturally warm your home. After the sun sets, closing the blinds can trap heat inside so you won't need to use your HVAC system so much. That may lead to an immediate reduction in your winter heating bills.
Which Type of Blinds Should You Choose?
Since heat loss occurs when warm air escapes through windows, reducing the amount of space where heat transfer can happen will keep more warmth inside. Blinds are manufactured with slats in a variety of sizes. Blinds with thinner slats will have a large number of spaces where heat can escape. If you choose larger slats, there will be fewer of them, and therefore fewer gaps where heat can be lost.
Knox Blinds sells blinds crafted from aluminum and real and faux hardwood. All our products are designed and manufactured to be durable so they can last for years. No matter which blinds you choose, you can be confident that you're making a smart investment.
Get Help Choosing the Best Blinds for Cold Weather
We understand that selecting window treatments is often confusing since there are so many products available and so many companies making competing claims. A consultant from Knox Blinds can meet with you in your home to discuss the blinds we offer and to help you choose the ones that will best suit your needs and budget. Call (865) 544-8339 today to schedule an appointment.