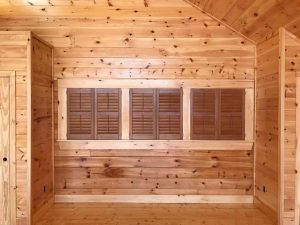 A window treatment can drastically alter the look and feel of your spaces. Hence, why it's crucial to pick a covering that meshes with your interior design theme and enhances the best elements of your rooms. At Knoxville Blinds & Shutters, our pros will help you find the perfect pick for your home or office. When searching for blinds and shutters, Flat Gap TN locals turn to us for our selection of luxury window treatments.
You start by making an appointment to shop from home and out pros will visit your property, bringing samples of some of the many products we stock. We will assess your space and provide suggestions on the best style, color, and materials based on your design goals and functional needs. Call us today at 865-544-8339 to speak to one of our blinds professionals.
A New Stress-Free Approach to Buying Window Treatments
While a quick Google search will turn up hundreds of stores shipping window treatments across the country, this glut of choice is often a case of too many options and no real solutions. It's impossible to pick window blind designs based on nothing more than a picture and a promise. But on the internet, you're taking that leap of faith every time you checkout. The result: you unbox your new covering only to find it doesn't suit your space.
Save yourself the stress, time, and money by turning to the knowledgeable team at Knox Blinds instead. Our goal is to simplify your search for a shade solution. As part of our free in-home consultation service, not only will you have the chance to see our window treatments firsthand, but our pros will also be available to answer your questions and identify the best set of blinds, shutters, or shades for your home.
Our selection of window treatments includes many different styles, from classic Roman shades to modern rollers to hi-tech motorized blinds. Each window treatment is available in a range of sizes, materials, and colors.
Start Shopping Today!
Transform your rooms with a high-quality window treatment handpicked by the blinds professionals at Knoxville Blinds & Shutters. Contact us today 865-544-8339 to find out more.