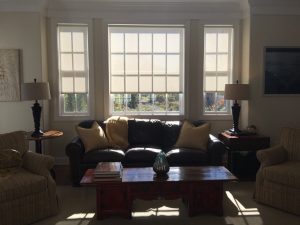 A window treatment is more than just a covering. The right style can drastically alter the look and feel of your rooms, adding contrast, character, and texture. At Knox Blinds, our goal is to help you find the perfect window treatment for your home or office. When hunting for new blinds and shutters, Powder Springs TN locals turn to us for our stress-free in-home shopping experience.
You book a consultation to shop from home and our pros will visit your property bringing along samples of some of our high-quality products so you can see which window treatment works best in your space. Contact us today at 865-544-8339 and book a visit from our team.
Guide to Choosing Your New Window Treatment
A good window treatment should mesh with your interior design theme and draw attention to the best elements of your spaces – whether it's your furniture, artwork, or architecture. However, when a window treatment clashes with your personal tastes it can ruin your rooms and derail your design goals.
Here's a quick guide to choosing the perfect window blind designs for your home:
Interior Design Theme. Are your rooms sleek and modern or classic and sophisticated? The first part of choosing a window treatment is deciding what look you are trying to convey. While a set of shutters will look out of place in a more minimalist setting, they're the perfect covering for a historic property.
Convenience. A good window treatment is one that is easy to use. While there are high-quality cord-operated blinds, cordless options will simplify your life and often result in a cleaner overall look.
Insulation. Is your room exposed to the sun for large parts of the day? A set of insulating shades or blinds can help block out the glare and keep temps comfortable.
Light Blocking. Relief from the midday glare doesn't have to mean sitting in the dark. While you may prefer a total blackout, there are many window treatments that let in a small amount of light (such as solar shades) while still netting your privacy and shade.
Speak to a Blinds Professional Today
Simplify your search for a new window treatment with help from the knowledgeable pros at Knoxville Blinds & Shutters. From first pass to final purchase, we'll guide you through every step of the shopping process, explaining the benefits of different types of window treatments and providing suggestions on the most durable materials and coveted colors. Contact us today at 865-544-8339 to find out more.