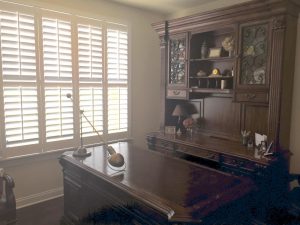 With origins in ancient Greece, plantation shutters have never fallen out of style. Even today, you can find this covering displayed proudly in luxury homes and modern apartments across the country. But what are plantation shutters? And how can you use this shade solution in your own home to enhance your rooms? In this article, the experts at Knox explore the benefits of this popular window treatment.
Our plantation shutters are available in a variety of high-quality materials including genuine hardwood, composite, and vinyl. If you're struggling to settle on a style, color, or material, our pros can help you find the winning combination. Contact us today at 865-544-8339 to schedule your free in-home consultation.
Why Choose Plantation Shutters for Your Home
Although plantation shutters, especially those constructed from natural wood, tend to cost more than other, more basic window treatments, these coverings are a smart long-term investment due to their durability. Bottom line: plantation shutters will give you glare control for generations to come.
Constructed from high-quality materials and designed to maximize convenience, there's a reason this window treatment's popularity has never waned.Whether your goal is to enhance your home's sliding doors or give your bow windows the perfect style update, our plantation shutters will transform your spaces.
At Knoxville Blinds & Shutters, we strive to provide solutions that are equal parts functional, stylish, and durable. With our products, you can enjoy peace of mind that your shade solution won't buckle under pressure.
However, we know it's difficult to choose a covering based on nothing more than a picture. We will visit your property for a free in-home consultation, bringing along samples to help you pick the right plantation shutters for your rooms. At Knoxville Blinds & Shutters, we stock a wide range of options, giving you the freedom to customize any element of your new window treatment, from the size and style right down to the colors and materials.
Call Us Today for High-Quality Plantation Shutters!
Invest in a window treatment that will enhance your spaces and add value to your home. The pros at Knox Blinds will help you find the best solution. Call us today at 865-544-8339 to find out more.