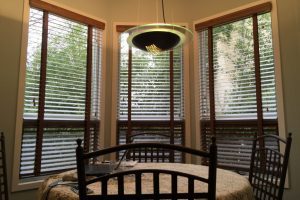 An expert's opinion can help steer you toward the perfect window treatments for your home. But many companies put a premium on this invaluable advice, forcing you to fork over money that's better spent customizing your new blinds or shutters. At Knox Blinds, as part of your free in-home consultation, our experts will bring along samples of our most popular window treatments and provide recommendations on the best solution for your space. When searching for a convenient way to shop for blinds and shutters, Norris TN residents turn to our pros for a comfortable customer experience.
We offer shades, shutters, and blinds in a wide variety of materials, from genuine hardwoods to cost-effective faux woods and sleek aluminum. Schedule your free in-home consultation today; call 865-544-8339 to speak to one of our window treatment specialists.
How Do I Choose the Right Window Treatment for My Home?
While it's important to find a window treatment that matches your personal style and complements your existing interior, you also need to consider other factors such as convenience and durability. For example, while wooden blinds are an elegant solution, this beautiful material will degrade in high-humidity spaces such as your bathrooms or kitchen. Our pros suggest opting for vinyl, aluminum, or faux woods in these rooms instead. Here are a few other factors you should consider when choosing blinds, shades, or shutters for your home:
1. Insulation
Window treatments aren't just designed to provide privacy and light control throughout the day. The right blinds, shades, or shutters can also insulate your windows, preventing cold or warm air from entering or escaping your home. As a result, your HVAC system will have an easier time maintaining a comfortable temperature, saving you a small fortune in running costs.
2. Safety
The dangling cords attached to some blinds have been shown to pose a safety hazard to your kids and pets. You can eliminate this threat by switching to shutters, cordless blinds and shades, or motorized alternatives.
3. Cleaning and Maintenance
The right window treatment can simplify your life, but certain materials require more maintenance and cleaning than others. For example, vinyl and aluminum are hard-wearing options that can be cleaned using a vacuum, duster, or damp cloth. These materials won't lose their colors during their lifespan. However, wood blinds will need to be stained or repainted once every few years.
Get Expert Advice on Blinds and Shutters in Norris TN
If you're struggling to find the perfect window treatment for your home, our style experts are here to help. At Knox Blinds, we believe shopping for new blinds, shades, and shutters should be an enjoyable experience, which is why we bring our window treatment store to your front door. Call 865-544-8339 today to find out more.