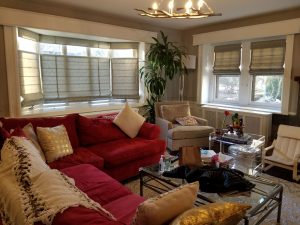 With countless materials, colors, and styles to choose from, finding the best blinds or shutters for your space can be tricky. But some types of window treatments stand out from the rest, offering unparalleled light control, efficient insulation, and timeless style. In this article, the pros at Knox Blinds will explore our most popular and top-selling products.
We take the stress out of shopping for new shades, shutters, and blinds by letting you browse through our expansive catalog from the comfort of your home. We understand it's difficult to choose a window treatment based on nothing but a picture, which is why our team will bring along samples of our most requested offerings and provide recommendations to help you find a design that best complements your existing interior. Call 865-544-8339 today to schedule your free in-home consultation.
Let's take a look at our most popular window treatment options:
1. Roman Shades
This classic window treatment is a simple way to add dimension and depth to any room. Our Roman shades are available in a wide variety of materials and colors and can be customized by pleating, battening, or folding the fabric.
2. Cellular Shades
Cellular shades are simple, sleek, and versatile. But this window treatment isn't all form and no function. These smart shades are made up of several tiny cells designed to trap air and insulate your home. This prevents warm or cool air from escaping or entering your rooms, helping regulate your indoor temps.
3. Motorized Blinds
Just a decade ago, many motorized blinds were noisy, slow, and inefficient. However, technological advances have ushered in a new generation of cordless window treatments designed to simplify your life with just the push of a button. Plus, some state-of-the-art solutions can be programmed to open and close at certain times of the day, helping control the natural light in your home automatically.
4. Plantation Shutters
Plantation shutters are a popular choice with our customers. These window treatments call attention to any window opening, from French or sliding doors to bow windows to standard casements and provincial windows.
Upgrade Your Home with Stylish Window Treatments
Countless homeowners are enjoying the aesthetic and functional benefits of our most popular shades, shutters, and blinds. With help from the pros at Knox Blinds, you too can experience the joy of finding a window treatment that enhances your rooms and matches your aesthetic vision. Contact us at 865-544-8339 today to start shopping from home.